PIPING AND MECHANICAL
Integral Service:
We design, manufacture and install the entire installation,
covering the entire process, with maximum guarantee, service and quality.
PIPING AND MECHANICAL
In a yacht all the elements are important, but there are aspects that due to their size and structure are more important and need the knowledge that our company can provide.

During our history we have found ourselves in multiple situations where seeking the best technical and possible solution we have been able to solve the questions in the most appropriate way for the interests of our clients.


The constant evolution of the naval sector makes us move forward together with the new designs and systems that are used today. The company's philosophy is to constantly improve and carry out continuous training.

We have a great team that has a long experience, and this allows us to offer the following services.
PIPELINES
Safety at sea means that all the systems must function properly, for that reason we offer our knowledge and experience in promoting the best and most appropriate system in each case.

This is the specialty in which we can best advise you due to our large experience in this field. We work in new built and repair and we use metallic materials and other materials that exist in the market.

• Welded pipes: Stainless steel (AISI, 316, 304, duplex, super duplex, Inconel and titanium), carbon steel (mild or high resistance steel), aluminium (naval and commercial aluminium).

• Pressed fitting pipelines: copper, stainless steel, cupronickel, uponor and mepla.

• Glued / fusion pipelines: PVC-C, PVC-U, ABS, PE, PP and PB.
EXHAUST SYSTEMS
The large experience of our team in this field allows us to ensure our high capacity to be able to install the exhaust systems with professionalism and high knowledge.

From our company we offer a complete service, from system development to installation and maintenance. Starting from the design, continuing with the construction process in both main engines and generators.

Within this field we can also intervene in the maintenance work of the exhaust filters.

In addition to performing the service, we also supply high-temperature gaskets and different elements associated with exhaust systems.
MECHANICAL
A fundamental area within any yacht is the mechanical part. Carrying out the relevant revisions promotes optimal navigation and minimizes possible incidents.

INFE provides a specialized group of mechanics, with a large experience in the various areas that a yacht requires.

We have the knowledge and capacity to carry out new installation works and maintenance works of the different equipment that we can find in all areas of the yacht (hull valves, stabilizers, rudders, shafts and maneuver propellers, as well as propulsion propellers) .

We also contribute with our experience in the different maneuvers that are carried on board, during the installation of the main engines or generators, as well as the rest of the equipment that we can find in the engine room.
HYDRAULICS
The reality of the nautical world due to the new dimensions of ships and yachts means that hydraulic systems are becoming increasingly complex. These require of a technification that throughout our experience we have achieved.

For everything to work properly on board it is necessary a previous study to be able to analyse the characteristics of each yacht. Depending on the requirements, we carry out the design taking into account that these systems must be maintained and revised over time.

For this reason, we have a specialist team that allows us to monitor the process, from its installation, its possible repair and maintenance.

We can also offer our customers pumps maintenance services and hydraulic engines. We are in contact with most manufacturers to keep the knowledge of our staff up to date.

We can also provide components and custom-made hydraulic hoses.
WELDING
Welding is a task that requires high knowledge and previous experience. It has a great impact on the safety of the yacht, for this reason INFE has welders approved by the Lloyd's Register (LR) certification.

We have collaborated in multiple projects, both in the design and in the construction of metal structures.

Our specialists can work with materials such as iron, stainless steel and aluminium using different welding techniques and being able to adapt to all type of yachts.
PUMPS
In every yacht a good bilge pump and fire protection system with its suction circuits to be able to transfer the seawater to other tanks or to the sea is required.

For this reason, the preventive maintenance of these systems contributes to their proper performance and lifetime, at the same time they will improve the yacht's general sailing performance.
Our team is prepared to carry out the maintenance services of the majority of existing pumps on board. We take care of saltwater, freshwater, sewage / greywater pumps as well as fire protection, fuel and oil pumps.

At the same time, it is highly recommended to carry out the maintenance of the electric engines that are part of these pumps to be able to carry out a whole global maintenance of the equipment.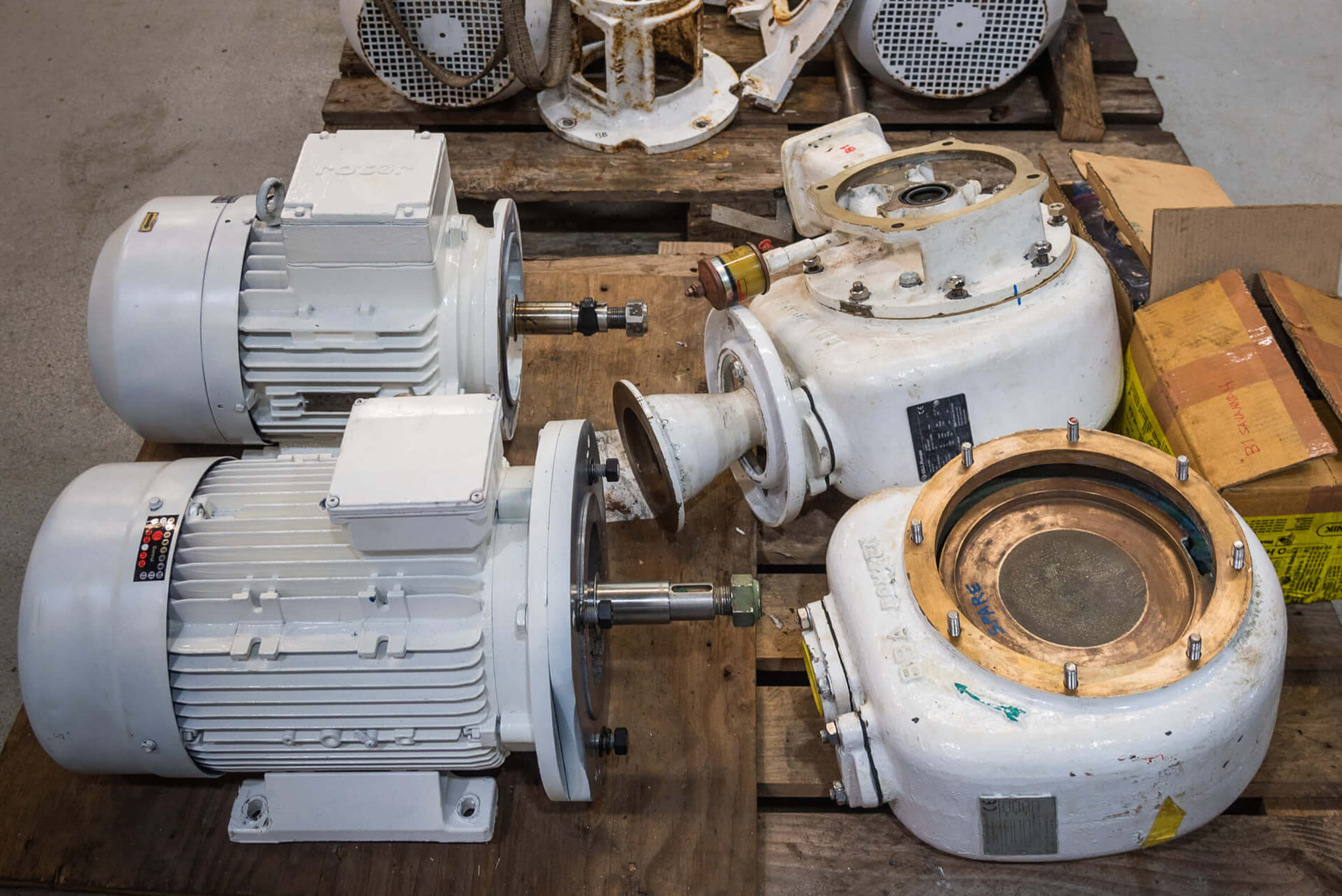 VENTILATION EQUIPMENT
In an engine room high temperature require good insulation and a good ventilation system that allow people and equipment to work in the best possible conditions.

A good performing ventilation system is vital in these environments. For this reason, our workers carry out maintenance services on all type of yachts, especially on mega yachts.

We also work with extraction systems. We carry out the maintenance of their electric engines and also the blades configuration.